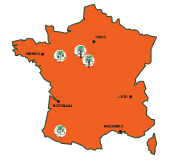 The company Brard Graines SAS puts several productions zones at your service.

4 zones in France in function of :
The climatical situation in each region

The soil differences of each region

The necessity to spread productions for climatical risks

The size of the productions



The Anjou
Traditional region for the production of vegetable and flower seeds. Situated in the heart if the valley of the Authion, easy to irrigate due to the presence of canals. It is a zone with the reputation for its moderate climate conditions and for the wide range of its production possibilities in small or middle large surfaces as well as for the greenhouse production possibilities such as cauliflower, leek and onions.
The Beauce The northern region
An ideal region to grow large surface vegetable seed crops such as radish F1 and OP, carrots F1 and OP, spinach F1 etcetera in moderate climate conditions. The several isolation possibilities are our guarantee to the best varietal purity.
Bourges, the central region
This region is best for its production of large surfaces such as carrots and peas. Its continental climate is favoring an early harvest.
Gers The south west region
A traditional seed production area with possibilities to grow small (and larger) surfaces taking advantage of the early harvest possibilities as a result of its favorable climate.